Livingstone: London bus fares up by 18.5% in four years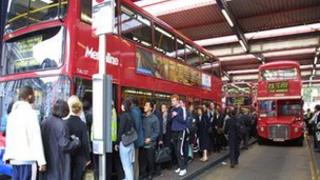 Bus fares in London have risen by almost twice as much as in other cities in England since Boris Johnson became mayor, according to Ken Livingstone.
The Labour mayoral candidate said government figures showed fares rose by 18.5% between 2008 and 2011, compared with an 9.8% increase in other cities.
The Mayor's office said London still had the cheapest fares of any English city.
It said its "expansive" network also offers more concessions than elsewhere.
Fares look set to be a key campaign issue ahead of the London mayoral election on 3 May.
'Unparalleled rise'
Under Mr Johnson a single bus fare using an Oyster pre-pay card has risen from 90p in 2008 to £1.30 in 2011.
That is set to increase by a further five pence next week.
Referring to figures from the House of Commons library, Labour candidate Mr Livingstone, who was mayor from 2000 to 2008, said the level Mr Johnson had raised bus fares by was "unparalleled" across England.
He pledged to cut bus fares from £1.35 to £1.20 if elected next year.
But Isabel Dedring, Deputy Mayor for Transport, said: "London's bus fares are absolutely the lowest in the country and considering how expansive the bus network is in London, it really is a fantastic achievement."
She said Mr Johnson had "protected all concessionary fares in full".
She said: "That means 40% of people travelling on the London bus network are travelling either free or discounted."