London mayor says serious disruption from roadworks cut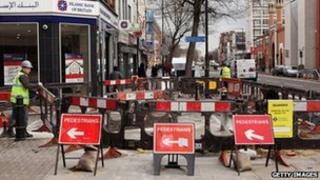 London's mayor has said his "war on roadworks" has cut serious disruption on the city's streets by nearly 40%.
Figures from Transport for London (TfL) indicate progress has been made on getting rid of disruptive and unsafe roadworks on the routes it manages.
Nearly 4,000 fewer roadworks between April and the end of 2011 cut disruption by 182 hours or 39%, according to the mayor.
Labour said although there was an improvement, more needed to be done.
In January 2010, Boris Johnson introduced a scheme which meant companies had to apply for a permit to be able to dig up roads.
In September, an IT system was launched for members of the public to report disruptive or badly managed repairs, including road blocks where no work was actually being carried out.
According to the Mayor of London, boroughs using the permit scheme have seen a 17% reduction in utility works compared with a 7% reduction in boroughs that do not issue permits. He said 2,200 reports had been made by the public.
Garrett Emmerson, of TfL, said other measures were planned including revising a code of conduct for utility companies.
Val Shawcross, deputy chair of London Assembly transport committee, acknowledged some progress but said there needed to be a "dramatic" improvement before the Olympics.