Police deliver baby in Woolwich car park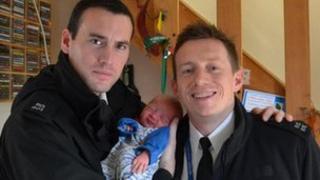 Four police officers have been praised for delivering a baby in an icy hospital car park in south-east London.
PCs Martin Avis, Chris Clare, Vicki Hurst and Sgt Ieuan Hill were at Queen Elizabeth Hospital, Woolwich, on unrelated business when it happened.
They saw a man and woman struggling and initially thought an assault was taking place - only to see the woman was in advanced labour.
The officers helped deliver baby Phoenix in the car park.
PC Avis and PC Clare had gone in search of hospital staff, but it was too late.
PC Hurst held the baby's head in her hands while PC Clare helped deliver him.
It was early on a cold morning, so PC Clare wrapped Phoenix in a T-shirt before shielding him from the elements with his police coat.
Hospital staff arrived moments later.
Two of the PCs had recently arrested a meat cleaver-wielding suspect and had just escorted him to the hospital.
PC Avis, himself a father-of-two, said: "One minute we were dealing with a violent suspect and the next we were delivering a baby in a car park.
"It was a surreal moment.
"Afterwards we drove back to the police station, knowing that we had just been part of something pretty amazing."
'Distressing moments'
He continued: "His [the baby's] dad was in an impossible situation - he needed to get help from the hospital but could not leave his wife on her own.
"They were distressing moments and I am glad we were there to help a little."
Metropolitan Police Commander Richard Wood called it "the Met at its best".
Phoenix was born on 17 December weighing 5lb 5oz (2.4kg), but details have only just been released. Both mother and baby are in good health.
The officers visited the baby a few days later, bringing him the gift of a teddy bear dressed as a police officer.