London New Year celebrations: 77 arrested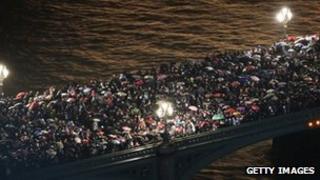 Some 77 people were arrested during London's New Year's Eve celebrations, with most of the crowds generally "good humoured", police said.
More than 3,000 officers were on duty to handle the large crowds which had gathered in the capital. London Ambulance Service treated 274 patients.
An estimated quarter of a million people crammed on to The Embankment to watch the Olympic-themed fireworks.
Up until 04:00 GMT, ambulance crews answered 2,000 emergency calls.
'Under-dressed'
Among the arrests, 17 were for assault, 17 for drunkenness and 16 for public order offences, police said.
A spokesman for the ambulance service said 55 people were referred to hospitals from the 13 treatment centres around London. The remainder were treated and "sent on their way".
A lot of the problems were alcohol-related but also involved trips and falls and people being "under-dressed", the ambulance spokesman added.
Westminster Council said a staff of 140 worked from shortly after midnight to "remove any sign of a hangover from the night before", including an estimated 50 tonnes of waste.