Clerkenwell shooting: Aarron McKoy killed on birthday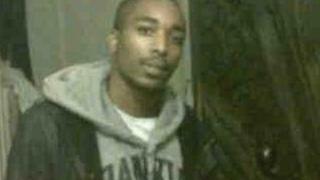 A row in a wine bar may have led to the killing of a man who was celebrating his 22nd birthday in central London, the Metropolitan Police has said.
Aarron McKoy had been at Clerkenwell House in Clerkenwell before he was shot on New Year's Day, police added.
He was found wounded in Portpool Lane at 04:10 GMT and died at the scene. A man who was arrested was later freed.
"We believe the victim was involved in an incident in the venue," said Det Ch Insp John Crossley.
"This may have been the prompt for his killing.
"If you were there and noticed a dispute taking place I would urge you to get in touch as soon as possible, to enable us to bring those responsible to justice."
Local businesses have also been asked to supply CCTV footage so officers can check it for clues.
A friend of Mr McKoy, who laid a bouquet at the scene on Sunday, described him as "a humble person who loved life".
It is believed that whoever shot the victim, who had turned 22 on 1 January, ran off towards Leather Lane.