Arrest over death of abducted Kirsty Treloar in Hackney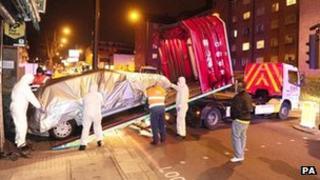 A man has been arrested on suspicion of murdering a 20-year-old woman who was abducted from a house in east London.
Kirsty Treloar, who was taken from Brownlow Road, Hackney, on Monday, was later found stabbed in nearby Homerton.
Just before she was kidnapped, a man aged 22 and a 24-year-old woman were attacked at the same address.
A 19-year-old was arrested in Hackney over the death at 13:00 GMT and is currently in custody at an east London police station.
The injured man is in a stable condition, while the woman suffered a minor injury. They are believed to be the victim's siblings.
A one-month-old girl was also taken from the address to hospital as a precaution and remains in hospital under observation.
Police said the suspect was being held at an east London station.
Neighbours, who did not want to be named, said they heard a "hysterical" scream come from the victim's property and a cry of "please, please, please" before Ms Treloar was taken away.
Her body was discovered at about 08:30 GMT in a grey Fiat Stilo which was abandoned in Ryder Mews, about a mile from her home.