Aarron McKoy shooting: Third arrest over Clerkenwell killing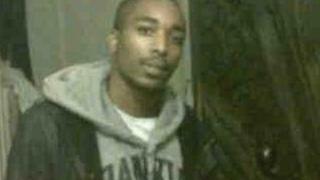 A third person has been arrested on suspicion of murder after a shooting in central London in the early hours of New Year's Day.
Aarron McKoy had been at Clerkenwell House in Clerkenwell celebrating his 22nd birthday before he was killed.
On Friday, a 25-year-old man was arrested and remains in police custody.
It has emerged that a man, 24, was stabbed outside the wine bar and as a result, violence escalated and Mr McKoy was chased down the road and shot.
Police said the stabbing victim was subsequently taken to hospital, treated and discharged.
A post-mortem examination gave Mr McKoy's cause of death as a gunshot wound to the chest.
He was found in Portpool Lane at 04:10 GMT and died at the scene.
It is believed that the suspect ran off towards Leather Lane.
Another man, aged in his 20s, was arrested and released without charge on 1 January while a 22-year-man has been released on bail until 6 March.