Accused did not want car fire victim Gagandip Singh hurt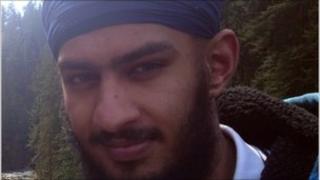 A medical student accused of luring her television executive friend to his death after he tried to rape her has told a court she did not want him hurt.
Mundill Mahil, 20 from Chatham, Kent, said Gagandip Singh, 21, had tried to rape her six months before he was murdered in February last year.
She told the Old Bailey she had refused to reveal his identity to certain male friends who had threatened violence.
Ms Mahil denies killing Mr Singh whose body was found in Blackheath.
He had been beaten unconscious and bundled into the boot of a Mercedes which was later set on fire.
Ms Mahil said one her friends said he wanted to chop Mr Singh's legs off while another suggested kidnapping him and beating him up.
Along with Ms Mahil, Harinder Shoker, 20, of Charlton Park Lane, Greenwich, and Darren Peters, 20, of Shooters Hill Road, Blackheath, both south-east London, all deny murder.
They all also deny causing grievous bodily harm with intent.
Opening the defence case, Michael Birnbaum QC, for Ms Mahil, said: "She was telling a number of people whom she knew that she was worried friends of hers wanted to attack Gagandip but that she didn't want that. She made it clear that she didn't want him hurt."
However, the court heard Ms Mahil accepted suggestions from other friends that she should invite Mr Singh to her home in Brighton so they could lecture him on how to treat women.
"The worst that she contemplated was that he might be given a few slaps, nothing more than that," said Mr Birnbaum.
'Never willingly kissed'
In court, Ms Mahil who was described as a "devout Sikh" who had supported Mr Singh after his father was murdered while visiting India in September 2009.
She agreed she had led a "very sheltered life" and according to her religion was supposed to keep contact with men to a minimum.
The defendant said that sex before marriage was "a no-no" and that she had never willingly been kissed. When Mr Singh had tried to kiss her before, she had slapped him.
She added that she was "too ashamed" to go to the police about the sexual assault, which happened when Mr Singh had unexpectedly asked to stay at her home in Brighton.
Ms Mahil told the jury she did not tell her family because: "They would blame me, saying: 'It's your fault, you shouldn't have allowed him to stay'. That is what most Sikh families would think."
The trial continues.