Westminster PCSO numbers 'cut two thirds'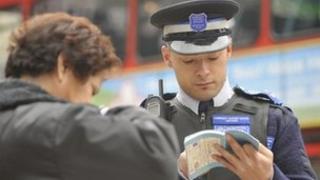 Some 200 Police Community Support Officers are to be removed from the streets of Westminster, BBC London has learned.
The cutback - two thirds of the borough's total PCSO force - includes 50 from safer neighbourhood teams.
Oxford Street's team of 20 PCSOs will be cut to three.
One of London Mayor Boris Johnson's deputies insisted the PCSOs would remain available for other areas of crime fighting.
Details of the cut were revealed in a letter from Det Supt Penelope Banham, which read: "With effect from mid-January, each ward will now have three dedicated PCSOs attached to it.
"Those wards that previously enjoyed an enhanced status will revert to the standard level of staffing of three PCSOs."
'Crime will rise'
Karen Buck, Labour MP for Westminster North, said: "We were given to understand that safer neighbourhood teams would be protected from the reductions.
"We are now seeing many of the wards in Westminster - including the West End which has its own pressures - will be losing numbers."
A trader on Church Street Market said it would be "absolutely terrible".
He added: "If they cut the police then crime will rise."
The falling numbers come despite Kit Malthouse, deputy mayor for policing, telling the BBC last year: "Some of the wards have six PCSOs and they are protected [from cuts] too."
Speaking after the cuts were revealed, he said: "People would say that [numbers are falling] if they only see half the picture - if they don't see the fact that these PCSOs will not be lost to the organisation.
"They will be available for greater crime fighting."