HS2: Hillingdon community group opposes plans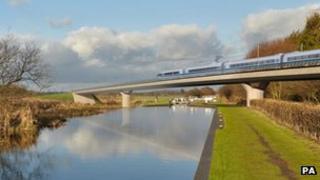 People living along the proposed route of a controversial high-speed rail line between London and Birmingham have spoken out against the plans.
The government approved the 100-mile (160km) track to help overcrowding.
There will be direct links to Heathrow and a 2.75-mile (4km) tunnel will be built in Ruislip, north-west London.
Campaigners said schools would be affected by the noise, but the government said tunnels would appease environmental concerns.
Keri Brennan, chair of the campaign group Hillingdon Against HS2, said she was concerned for her community.
She said six schools would be affected by noise from construction, and the high-speed trains would be loud.
"It will disrupt their concentration and a lot of children will be living near the line," she said.
Ms Brennan added that although the government was going to build a 3m (10ft) sound barrier, the trains would be 4m (13 ft) high.
"So kids are fine as long as they don't open the window or go outside, which isn't really good enough," she said.
Ray Puddifoot, leader of Hillingdon Council, said: "This is not in the best interests of the country and every MP should ask themselves if £51m for every parliamentary constituency offers good value for money in the current economic climate."
Lottie Jones, of Ruislip Against HS2, said it was a "victory of sorts" that the government was going to build a tunnel under Ruislip.
"We have shouted the loudest and they have listened to us and realised that this is a massively built-up area and hundreds of people's homes will be affected, but actually a 2.75 mile tunnel across Ruislip is not that long," she said.
"Ruislip covers an enormous area and that means it'll be an absolute nightmare for people in south Ruislip, and devastation for the people in Ickenham who will get nothing."
Transport Secretary Justine Greening said despite measures such as tunnels to limit the environmental impact, the scheme would "inevitably affect some homeowners, communities and businesses".
"To help those affected, we will bring in a package of measures, which are over and above what affected homeowners are already entitled to under law," she said.
'Overcrowding' at Euston
This first phase of High Speed Two (HS2) could be built by 2026.
Opponents dispute government claims that the project will cost £32bn but deliver benefits worth £47bn.
Old Oak Common was named as one of the main stations for the the high-speed trains which will stop there before terminating at Euston.
The area's council, Hammersmith and Fulham, welcomed the plans, saying derelict industrial land in one of London's poorest areas would be transformed, bringing in 20,000 jobs.
Camden's London Assembly member, Brian Coleman, has attacked plans to demolish hundreds of homes around Euston station to make way for high-speed rail.
He said for his residents the cost of HS2 was simply too high and added that there would be massive overcrowding at Euston as the Northern and Victoria underground lines would not be able to cope.
'Benefiting businesses'
In a statement, Ms Greening said the first phase would see train times from London to Birmingham cut to 49 minutes.
A spur linking to Heathrow airport would not be built until the second phase, which will see the line continued to Leeds and Manchester.
A spokesman for Boris Johnson, the mayor of London, said although he supported the plans, he would press for the least possible disruption along the route and for improvements at Euston to handle the extra numbers of people brought into the capital.
Business groups in London have welcomed the move, with Colin Stanbridge, chief executive of the London Chamber of Commerce and Industry (LCCI), saying he was "pleased that proposals we supported regarding the direct links to HS1 and Heathrow have been taken on board."
He added: "HS2 will increase capacity on the rail network and once phase two is complete will open up Europe to the north of the UK benefiting businesses both in London and across the country."