Thames Water 'cannot rule out hosepipe ban'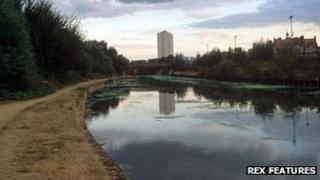 Thames Water has said it cannot rule out a hosepipe ban as it launches a campaign to try to prevent a drought.
Residents near the River Lee, north of London, and the River Darent, to the south, have been warned to use water wisely.
The company said last year's "exceptionally dry weather" meant the threat of a drought this summer remained "real".
A spokeswoman said the company was taking precautionary measures.
The campaign's aim is to raise awareness among those who live near tributaries that feed the River Thames.
'Everyone's problem'
Thames Water takes water for its customers in the area from Feildes Weir on the River Lee to the north and from boreholes that tap into the groundwater at Eynsford and Horton Kirby to the south.
The campaign will use a van carrying a large poster which will tour areas including Bishop's Stortford, Cheshunt, Enfield, Chigwell, Loughton, Epping, Shoreham, Well Hill, Farningham and Swanley.
Thames Water said even though rainfall in the Ware area was 101% of the long-term average in December, the River Lee is still only running at 54% of its average flow.
Richard Aylard, of Thames Water, said: "This is not just our problem, it's everyone's problem which we can all help tackle by being 'water-wise'."
He encouraged people not to leave taps running while they brush their teeth and to spend less time in the shower.
"One dry winter does not necessarily lead to problems but two in a row can, which is why we are hoping for decent rainfall this winter, as well as urging people to be water-wise," he said.