Met Police apologise to family for wrongful arrest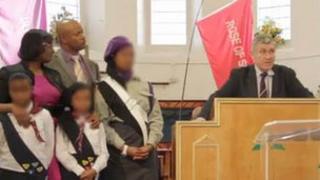 The Metropolitan Police has said sorry in church to a mother who was wrongfully arrested for assaulting a police officer.
Alison Richardson was said to have hit a female officer during a dispute.
Her church elder husband Clive had called the police when bailiffs had wrongfully tried to clamp his car.
Det Sgt Nick Westwood visited the couple's church in Greenwich to say he was sorry for the "harm, upset and distress" which had been caused.
Mrs Richardson was convicted for assaulting a police officer in 2008 and ordered to carry out 150 hours of community service.
Her conviction was quashed upon appeal.
Following her conviction, Mrs Richardson had to step down from her role at the Greenwich Seventh-day Adventist Church as she had lost her criminal records bureau accreditation.
Mr Richardson said: "Knowing that this came about from a false allegation made it even more painful. It was unbelievable but it was very traumatising."
'Humbling experience'
After she was cleared of wrongdoing, the couple took civil action against the police as they wanted them to take responsibility for what had happened.
After discussions, the police agreed to issue a written apology and to publicly say sorry at the couple's church.
Mr Richardson said: "We had to basically push for this because in the process it was not until the last minute that they held their hands up."
He added: "In the first place it should not have happened.
"Police should have acted with more dignity and treat their job and position in a more dignified way."
Speaking at church during Saturday's sermon, Mr Westwood told the congregation: "It's not surprising that as there's so many police officers and so many people that we come into contact with that we get things wrong occasionally."
He said police officers had used an "inappropriate phrase" and it had been decided that the officers were "clearly wrong".
He added that he decided to go to church as the couple were such strong members.
"It's been a humbling experience to meet friends and colleagues and the congregation and I hope this apology goes some way to putting to rest some upset and distress the Richardson's as a family have experienced."