Metropolitan Police helicopter launches on Twitter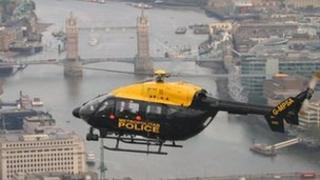 The Metropolitan Police have launched a Twitter account to allow Londoners to find out what the force's helicopters are doing.
The account - @MPSinthesky - launched on Tuesday and had soon gathered 3,000 followers.
It is intended to keep the public informed about the helicopter' s role in vehicle pursuits, catching burglars and tracking armed suspects.
Police hope explaining the work of the helicopter will cut noise complaints.
Insp Phil Whitelaw, head of the Air Support Unit, said it was "a terrific way to use social media and keep Londoners informed" of the unit's work.
"The response so far has been very positive and I'm certain @MPSinthesky will play a vital role in helping Londoners understand why we were - or are - working in a particular area."