New housing plan for low earners in Westminster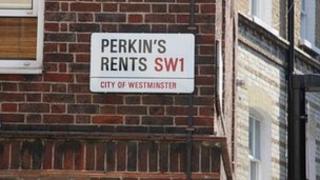 Low wage workers in London's West End who are not prioritised for social housing will be able to apply for affordable accommodation, Westminster City Council has said.
The council said market traders, special constables and hospitality workers would be among those helped.
Housing Minister Grant Shapps welcomed the move.
But Labour councillors said housing benefit changes would soon push more people out of the borough.
The initial pilot will comprise of up to 25 homes in the West End.
The authority said the wage at which workers would become eligible was likely to be in line with the London Living Wage minimum hourly rate of £8.30 per hour for a 40-hour week.
The maximum income may be set at about £30,000 but both figures would be subject to "market testing and consultation".
The scheme is designed to provide "high quality sub-market rent accommodation in central London on a shared basis", it said.
Rents would be a third cheaper than the private sector.
If it is a success, the pilot will be extended.
Councillor Jonathan Glanz, cabinet member for housing, said: "We are working to provide fairer housing options to lower-earning individuals who play a vital role in the economic life of the West End."
But Labour councillors say more people will be pushed out of the borough when new housing benefit rules are introduced.
Councillor Paul Dimoldenberg, leader of Westminster Labour, said: "With housebuilding at its lowest point for decades, housing supply is not increasing to keep pace with demand."