Police seize 1,000 beer kegs in London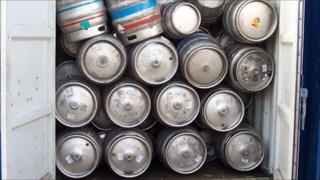 About 1,000 beer kegs worth more than £100,000 have been seized by police tackling metal thieves.
Officers raided two shipping container sites in the north London areas of Tottenham and Edmonton on Friday and took away the barrels.
A 19-year-old man and an 18-year-old woman were arrested on suspicion of handling stolen goods and later bailed.
The operation is part of Kegwatch, in which local police work with pubs to stop the theft of the kegs and casks.
Each individual beer keg is worth between approximately £75 and £165.
Det Insp Steven Dryden said: "In the last 10 years, the price of metal has soared 400% - it's a valuable commodity that makes it an attractive prospect to thieves.
"Thieves and unscrupulous dealers will find industries are not prepared to suffer any further, and police in Haringey will not hesitate to take action against anyone who is found to be involved in this form of criminality on the borough."