Man hurt in clash between EDL and youths in Whitechapel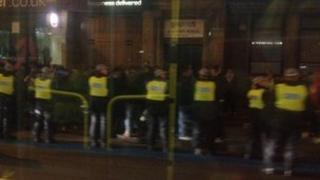 A man was taken to hospital and 15 people were arrested after a fight involving English Defence League supporters and youths in east London.
Police were called to reports of an assault in Whitechapel Road on Saturday afternoon when EDL supporters travelled to the area after a gathering in Barking.
The fight led to a larger disturbance, at one point involving several hundred people, and bottles were thrown.
All those arrested have been released.
A Metropolitan Police spokesman said the incident began at about 17:00 GMT when there were calls about a "large fight" in the area, which is near to the East London Mosque.
An ambulance was called to assist the injured man and he was taken to hospital. His injuries were said to be not life-threatening.
The police spokesman said passers-by became involved in the disturbance and some bottles were thrown.
Rushanara Ali, MP for Bethnal Green and Bow, said she visited the area after she became aware of police being called.
'Increased presence'
She said: "I was out visiting constituents when I saw the police cars.
"As far as I could see, the police were doing their job. There were a lot of young people around but the police are very adept at handling these situations.
"What I am saying to people is not to rise to the provocation.
"The police have reassured me that they will have an increased presence in the area."
Police said the 15 people were arrested to prevent a breach of the peace.