Parliament Square 'Democracy Village' campers removed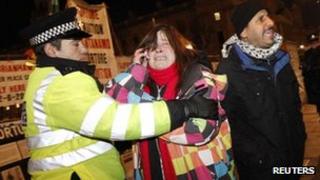 A protest camp in London's Parliament Square has been cleared by police.
Scotland Yard said officers began the three-hour operation to remove tents and property at 19:30 GMT on Monday.
Two people were arrested during the eviction process for breaching a law preventing encampments around Parliament Square.
Campaigners set up the "Democracy Village" in May 2010, where they have protested against a variety of issues including the war in Afghanistan.
The removal comes after the police reform and social responsibility bill came into force, preventing encampments in certain locations around Westminster.
A police spokesman said some tents remained on the site, adding: "One person has launched legal proceedings.
"At the High Court yesterday the Met undertook not to enforce the legislation against that individual while proceedings are ongoing."
'Will of the people'
City of Westminster Council Clean Streets teams assisted officers in removing the protest camp, loading equipment into marked lorries.
Outgoing council leader Colin Barrow said: "For too long local people and tourists have been unable to fully enjoy the square. This is a tragedy and the sooner this historic site can be enjoyed by the public the better.
"Westminster Council is currently pursuing a by-law to ensure we can manage the area for everyone. The police action follows the clear will of the people, expressed through Parliament, to remove this encampment."
London Mayor Boris Johnson said on BBC London 94.9: "I think it was high time that a world heritage site was properly protected from what was basically vandalism, and it had become an eyesore.
"No matter how important the right to protest is, and everybody defends people's ability to legitimately make their point, you can't have the continual desecration of a world heritage site."
Campaigners - initially led by the late peace campaigner Brian Haw - have maintained a presence outside Parliament for about a decade where they have displayed signs, banners and flags.
The group that set up camp on the green were evicted in July by the Greater London Authority following a High Court order but some protesters then pitched up to 30 tents on the pavement next to the lawn, which is owned by Westminster Council.
The Bill, which received Royal Assent in September, gives authorities more powers to tackle protests such as the Parliament Square camp.
It also bans protests in areas including Whitehall, Bridge Street, the Queen Elizabeth II Conference Centre and Westminster Abbey.