'I had no motive' says Gagandip Singh accused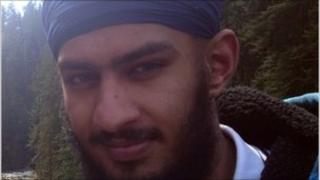 A man accused of beating a television executive and then leaving him to die in a burning car in south London had no motive to hurt him, a court heard.
Harinder Shoker, from Greenwich, south-east London, told the Old Bailey he had no reason to harm Gagandip Singh.
Mr Singh, 21, was left unconscious in a car in Blackheath which was set on fire in February last year.
Mr Shoker, Mundill Mahil, of Chatham, Kent, and Darren Peters, from Blackheath, all 20, deny murder.
'No plan'
The court heard that Mr Singh - who was known as Gagan - had been beaten unconscious.
Sallie Bennett-Jenkins QC, for Mr Shoker, asked him: "Did you have any motives of your own to want to hurt Gagan?".
He replied: "Not at all."
She told him that the prosecution alleges he was "part of a plan to kill Gagan."
He replied: "That's totally incorrect."
The pair first met at a Sikh temple in Woolwich, south-east London, when Mr Shoker was 17, the court heard.
They became friends and when Mr Singh's father was murdered in India in 2009, Mr Shoker gave him a lift to the airport to visit the country.
But the friendship cooled, partly because of Mr Singh's "attitude and behaviour towards women", the court was told.
Mr Shoker, of Charlton Park Lane, said Mr Singh had sent texts of a "sexual nature" to a female friend who was living in Manchester.
'Can you be bothered?'
The prosecution alleges that Ms Mahil lured Mr Singh to her university house in Brighton, where he was set upon by Mr Shoker and Mr Peters who then put him in the boot of a car and drove him back to London.
The vehicle was then set on fire with Mr Singh still inside, it is alleged.
The court heard that Mr Shoker thought the plan was to take Mr Singh back to London so that an older Sikh man could talk to him about religion and how to treat women.
Jurors were told that Mr Shoker, who is an insulin-dependent diabetic, had not eaten anything since lunchtime on the day of the murder.
He told the jury: "I said to (Mr Peters) 'bruv, can you be bothered, like shall we carry on with this or not?'"
"I was just feeling quite lazy, to be honest, I couldn't be bothered going back to London," he said. "I'd been at work all day, I wanted to go to sleep."
Mr Shoker, Ms Mahil, of Maidstone Road, Chatham, and Darren Peters of Shooters Hill Road, Blackheath, deny murder and an alternative count of causing grievous bodily harm with intent.
The trial continues.