West End parking plan 'cost Westminster Council £1m'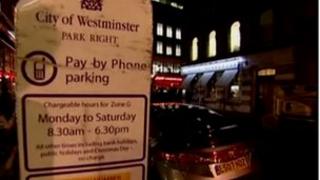 London's West End parking "fiasco" has cost taxpayers £1m, the local Labour Party has alleged.
Plans to charge for Sunday and evening parking were abandoned by Conservative-run Westminster Council on Wednesday after prolonged protests.
Westminster Labour says a total of £1m was spent on preparation for the parking scheme that never was.
Westminster Council disputed the figure, saying the total spent on the project was £250,000.
Labour insists its calculations are accurate.
It says the council spent money on:
Legal fees, as the council unsuccessfully fought a bid for a judicial review.
The cost of private transport consultants.
The salaries of people in the transport and communications departments which worked on the project for six months.
The outlay on several public consultations.
As BBC London revealed in December, the council also spent several hundred thousand pounds creating signage for the new scheme - before consultations were even complete.
At the time critics said the outlay showed people taking part in the consultation were being treated with contempt. The council insisted it would recoup the money once the charges started.
Councillor Paul Dimoldenberg, leader of Westminster Labour, said: "The council's arrogance and belief that it could do just as it pleases has finally been exposed and defeated.
"There needs to be a full inquiry into why the council ignored everybody until today and why it acted in such a high-handed and irresponsible way.
"This whole fiasco has cost Westminster taxpayers at least £1m at a time when huge cuts are being made to front line services to children, the elderly."
Mr Dimoldenberg also called for the resignation of Westminster's parking supremo, Councillor Lee Rowley.
Project 'research recyclable'
Mr Rowley, the council's cabinet member for transportation and parking, challenged the £1m figure, adding that it could be lower than £250,000.
He said: "Westminster has spent approximately £600,000 on commissioning and implementing its parking policy review, but around only a third of that relates to the withdrawn changes to hours of control in the West End.
"The remainder of the spend, along with much of the time officers spent on this project, will be re-used as it relates directly to wider research and policy development, all of which is still required.
"Once the decision to withdraw the policy has been confirmed by cabinet, and a report has been produced, we will be in a position to give exact figures on costs associated with evening and weekend charges, but we expect it to be around £250,000.
"Many aspects of this project are recyclable and so it could be that the true cost is even less than that."
The leader of Westminster Council, Colin Barrow, resigned last Friday insisting his departure was unconnected to the parking row.
The council had planned to charge up to £4.40 per hour for parking until midnight Monday to Saturday and on Sunday afternoons.
Protest groups argued it was aimed at raising revenue and not cutting congestion, as the council claimed.