Gagandip Singh murder trial: Attack on TV executive 'surreal'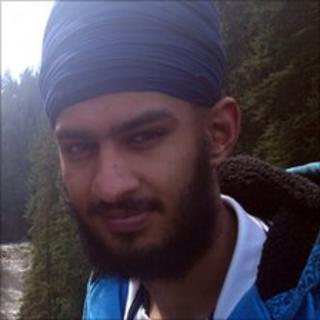 A man accused of the murder of a television executive who was beaten and left to die in a burning car has said the violence "just felt surreal".
Gagandip Singh, 21, was put in the boot of a car which was set on fire in Blackheath, south-east London, last February, the Old Bailey heard.
Harinder Shoker admitted hitting him, but said he did not know Mr Singh was alive when the fire was started.
Mr Shoker, Mundill Mahil and Darren Peters all deny murder.
Mr Shoker, of Charlton Park Lane in Greenwich, south-east London, Mr Peters, of Shooters Hill Road in Blackheath, south-east London, and Ms Mahil, of Maidstone Road in Chatham, Kent, are all aged 20.
'Very confused'
Ms Mahil, a medical student, lured Mr Singh to her university house in Brighton, where he was set upon by the two other defendants who then put him in the boot of a car and drove him back to London, the prosecution alleges.
The vehicle was then set on fire with an unconscious Mr Singh still inside, the jury has heard.
Giving evidence, Mr Shoker said he thought the plan was to take the victim to London to be lectured about his behaviour towards women.
He said: "In general the whole situation just felt surreal. This was something you'd see in a movie, you wouldn't be experiencing it."
Mr Shoker said it was Mr Peters who repeatedly punched Mr Singh and struck him over the head with a camera tripod.
The defendant said he thought the victim had been killed in the attack.
Mr Shoker said: "There was an open boot in front of me, and there was this guy that I think is dead, and I didn't know how to respond or take anything in.
"If I had known he was alive at that time I wouldn't have allowed anything to happen to that car because that's a disgusting way for someone to get killed," he told the court.
Previously the defendant, who is an insulin-dependent diabetic, said his blood sugar was getting low at the time of the attack as he had not eaten anything since lunchtime and he was "very, very confused" about what was happening.
The trial continues.