Snaresbrook court dining room shut in contamination inquiry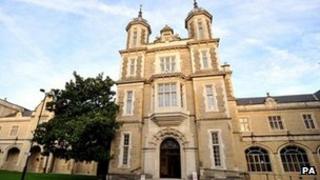 A police investigation has begun into suspected food contamination which led an east London court to close a dining room used by lawyers.
The advocates' dining room in Snaresbrook Crown Court was closed after police were contacted about the alleged contamination on Tuesday.
A food safety officer visited the court on Wednesday after an inquiry from a staff member, Redbridge Council said.
Snaresbrook Crown Court said the advocates' lounge remained closed.
It said it was shut because of a "shortage of staff" while the investigation into the alleged food contamination continued.
A HM Courts and Tribunals spokesman said the dining room was used only by lawyers. He said judges eat separately.
No arrests
Two other canteens, which are used by jurors and members of the public, were open as usual, a spokeswoman said.
A Metropolitan Police spokesman said: "We were called at approximately 16:00 GMT on Tuesday 17 January and we are investigating an allegation of food contamination at a venue on Hollybush Hill.
"The investigation is with Redbridge Council. There have been no arrests, and inquiries continue."
A spokeswoman for Eurest Services, a division of catering firm Compass Group, said it was "aware of a suspected case of food contamination" and it was investigating the matter.
The spokeswoman added: "Health and safety is our number one operational priority, we have robust policies in place and take such matters extremely seriously."