London 2012: 675 social rented homes for new village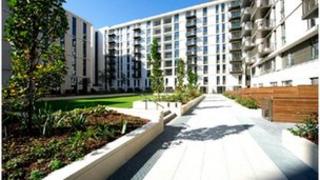 The number of apartments in the Olympic Village that will become rented social housing once athletes have used them this summer has been outlined.
The village in Stratford, east London, will accommodate competitors during the Olympics and Paralympics but once the Games end it will become East Village.
Triathlon Homes, the owner of the development's 1,379 affordable homes, has announced that 675 units will be rented as social housing.
Newham Council will receive 350.
The development will also have 1,439 private homes which will mainly be available to rent and set at the market rate.
The village, within the Olympic Park, is designed to be a lasting legacy of the Games.
Of the homes allocated for rented social use, 100 will be shared among other east London boroughs including Barking and Dagenham and Hackney.
Triathlon Homes said many people would know by the end of the year whether they have been successful in getting a home and be given a moving in date.
The mayor of Newham Council, which has a housing waiting list of about 70,000 people, said receiving 350 homes was still cause for celebration.
Sir Robin Wales said: "It's going to make a difference to 350 families who will be able to come and have a better life.
"We want more development but it gets difficult because this government isn't investing in social housing. But hey, it's 350, we'll celebrate that."
Geoff Pearce of Triathlon Homes said: "Of the 675 social homes nearly half will be family homes."
He said it would be a great place for families to live with spacious homes and landscaped courtyards.
It will also include education and healthcare facilities, parkland and public squares.