Drug smuggling court guard Dean Nelder jailed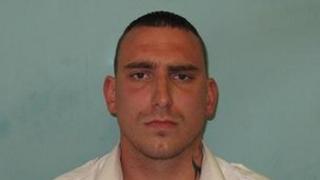 A former prison guard for Harrow Crown Court has been jailed for trying to smuggle heroin and cannabis into court.
Dean Nelder, 28, was caught taking a package containing the drugs in 2011.
The Old Bailey heard that the plan was to pass the drugs on to a man who was on trial for burglary.
Nelder was jailed for four years for smuggling the drugs, as well as two years for misconduct in a public office and three years for possession of a class A drug with intent to supply.
All the sentences will run concurrently.
The court heard that police were alerted to the plan after a note was left in a cell at Wormwood Scrubs prison tipping them off.
Nelder was seen by police receiving a package, later revealed to contain 33 wraps of heroin packed in 5.95g (0.01lbs) of loose cannabis, from Matthew Talbutt.
The court heard the plan was to pass the drugs on to Dev Sandhu, who was then on trial at Harrow Crown Court for conspiracy to rob and conspiracy to commit burglary.
Nelder was in debt and saw "an easy opportunity to make some money" while Talbutt was merely "a courier", the court heard.
Talbutt, 20, from Harrow, and Nelder, from Acton, had both previously admitted the offences they were sentenced for.
Talbutt was sentenced to 21 months for supplying heroin and 12 months for supplying cannabis - again to run concurrently. Sandhu, 22, from Greenford, west London, will be sentenced on 3 February.
Passing sentence at the Old Bailey, the Recorder of London Peter Beaumont QC said Nelder had let himself and his family down and had made it difficult for himself to get a responsible job in the future.
The most senior permanent judge of the Central Criminal Court added: "You, in my judgment, are a cog in a much larger criminal organisation.
"You have criminal convictions, I can't overlook them, but they pale into insignificance in comparison to the trouble you are in this afternoon."