Westminster is 'migrant magnet', says council leader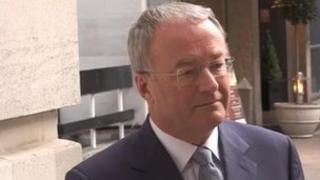 The City of Westminster is a "magnet for migrants", the Conservative leader of its council has said.
Colin Barrow called for an assessment centre to be set up at Victoria Coach Station where many people arrive from Europe.
The government is yet to respond to Mr Barrow's comments.
Earlier this month, Mr Barrow said he planned to resign as leader of Westminster Council and stand down as a councillor.
'Pressure on services'
Mr Barrow said: "Westminster has been a magnet for migrants."
"People are pitched out of their buses when they arrive at Victoria Coach Station and not really sure what to do next - and that is a burden on us.
"I think you need a reception centre, a proper assessment centre, whenever anyone comes into this country - when they're coming in for the first time.
"We're most concerned about assimilating people into England who have a right to be here but don't know how to behave when they get here.
"They don't know how to get into schools, they don't know how to speak English.
"They need help to adapt and assimilate and that puts pressure on public services."