The City urged to help London's Air Ambulance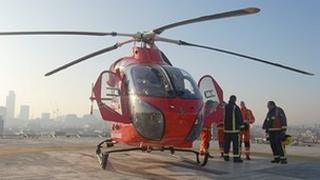 London's Air Ambulance needs to secure an extra £3m in annual funding to help it carry out its work and enhance services, said its new executive director.
Dr Julian Thompson said he wanted to particularly encourage corporate London to help financially and secure the charity's long-term future.
It has just one helicopter to attend 2,000 trauma victims every year.
Dr Thompson said current funding limitations were "frustrating".
At a coroner's inquest into the 7 July bombings held in December, Lady Justice Hallet recommended London's Air Ambulance should have its "funding and capacity" reviewed.
She said: "Despite current financial constraints, London's Air Ambulance has, since its formation, provided an invaluable service to the capital."
Pride in service
Current revenue streams for the service include funding from the NHS, individual donations, a lottery scheme and some corporate sponsorship, bringing in between £2.2m and £2.8m a year.
Dr Thompson, who previously worked as a doctor for the service in 2010, said he wanted Londoners to feel a pride in the service, and hoped a wide number of institutions in the City would come forward.
He said: "To continue to deliver the care Londoners require we really need an additional £3m a year as it is critical to develop further and know that we have a regular income every year to meet our needs.
"We have one helicopter serving a population of 10 million. Other world cities with smaller populations can have up to five helicopters. Due to maintenance of the helicopter we can't use it for 30% of the time."
London's Air Ambulance is based at the Royal London Hospital in Whitechapel and attends life-threatening incidents within the M25.