Victoria Tube murder accused denies kicking dying boy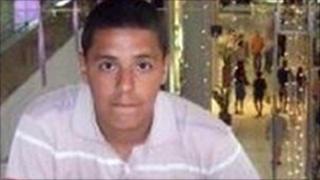 A woman has denied kicking a dying schoolboy in the head after he was stabbed at Victoria Tube station.
Sofyen Belamouadden, 15, died after being chased into the central London station during rush hour in March 2010.
Victoria Osoteku told the Old Bailey she nudged the victim with her foot to see if he was OK when she saw him on the ground, after joining a crowd of youths who ran into the station.
The teenager, from Deptford, south-east London, denies murder.
The prosecution alleges Miss Osoteku, who was 18 and an A-level student at the time, had helped to set up an arranged fight between two groups of rival school students.
During the fight up to 20 youths armed with knives and a Samurai sword chased Sofyen down some steps and into the ticket hall.
He was stabbed nine times and suffered wounds to his heart, a lung and major blood vessels.
The prosecution has claimed Miss Osoteku had bought a set of knives at lunchtime that day and joined in the attack by kicking the boy as he lay bleeding on the ground.
But on Thursday she told the Old Bailey she had joined the crowd of youths as they ran across a road but did not know what was happening.
She said as she reached the bottom of the steps she sensed somebody was being attacked.
She told the jury she saw one youth with a knife and then the crowd around the victim parted and she could see him on the ground.
"I just went to see if he was OK and I nudged him with my foot to see if he was OK," she told the court.
"He didn't move. I looked down and then I ran off.
"I panicked. I did not know what to do."
The trial was adjourned until Friday.