Fatal Barnehurst burglary victim's home 'targeted'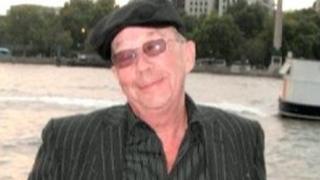 A burglary in a south-east London home, after which a 64-year-old man was found dead, was a "targeted and planned" crime, the Metropolitan Police said.
Two men entered the Barnehurst bungalow of Edward and Anne Syrad on Wednesday armed with guns and disguised.
The couple were tied up in separate rooms, but when emergency services arrived they found Mr Syrad had died.
A post-mortem examination gave the cause of death as numerous severe blunt trauma injuries and heart failure.
No-one has been arrested and officers are appealing for information.
'Absolutely devastated'
Floral tributes have been left outside the couple's home, close to Bexleyheath.
Detectives said the couple were threatened by the intruders and tied up in separate rooms.
After the suspects fled with cash, Mrs Syrad was able to free herself and called 999, police said.
Emergency services reached the home within 25 minutes but Mr Syrad was pronounced dead at the scene.
Mrs Syrad runs a building company in Greenwich and her husband had been retired for many years.
Det Ch Insp Cliff Lyons said: "Edward has lost his life at 64 years of age, someone has taken his life.
"His family, a loving family, are absolutely devastated.
"The terror of someone coming into your own home, subjecting you to that type of crime, is easy to identify with.
"But the bigger implications are the fear that it causes in the community."