Chinese New Year: London parade leads celebrations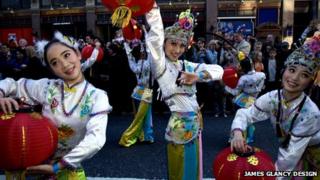 The Chinese New Year has been marked in London with day-long celebrations.
A parade, starting at Trafalgar Square, saw colourful floats and beating drums head through the city towards Chinatown.
Mayor of London Boris Johnson and Liu Xiaoming, the Chinese ambassador to London, also attended a special ceremony.
About 100 world renowned acts performed in the square. Chinese New Year officially started on 23 January.
Performers in London included The Chen Brothers, who hold the Guinness World Record for the highest pole jump in the Lion Dance, and the National Music Orchestra of Jilin Province.
Alongside Trafalgar Square, a second stage on Shaftesbury Avenue hosted performances from a range of local community groups and schools.