Wildlife crime unit paid for by animal charity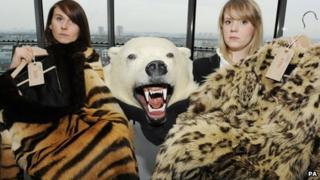 A charity tackling animal cruelty has become the first group to directly pay for a Metropolitan Police (Met) unit.
The specialist Wildlife Crime Unit (WCU) has had its future safeguarded after investment from the World Society for the Protection of Animals (WSPA).
The £100,000 a year will pay for more staff and a one-off exhibition of WCU-seized items which are rarely on display, such as a £200,000 rhino horn.
Police said a lack of funds meant it had struggled to tackle wildlife crime.
The amount provided by the charity will be matched by the Met and the money will go to increase intelligence gathering, increase enforcement drives and crime prevention initiatives, the WSPA said.
In the longer term the unit will work towards forming a network across London boroughs.
The force said more officers and resources were needed but it had become clear additional centralised funding would have been impossible in the current economic climate.
'Hardened criminals'
The unit currently has one sergeant, one constable and one member of civilian police staff. The WSPA funding has secured another PC and another police staff post.
Simon Pope, WSPA's head of external affairs, said: "Without the specialist skills and knowledge of the WCU, wildlife crime in London could flourish.
"This is not some niche, illicit trade carried out by petty part-time villains.
"It is a major source of revenue for a global network of hardened criminals, gangs and drug lords; all growing rich from the trafficking of wildlife and none about to have a crisis of conscience and stop what they are doing."
A dedicated Met unit to tackle wildlife crime was formed in April 2004 but since 1995 the force has seized 30,000 items which had come from endangered species.