Tower of London veteran Beefeater retires after 20 years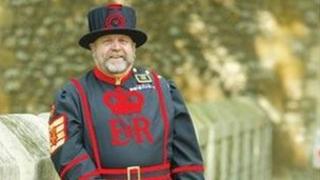 The second longest serving Beefeater in history is working his final day at the Tower of London before he retires.
Chief Yeoman warder John Keohane has spent 20 years in service at the tower.
During his tenure he has appeared in countless tourist photographs and escorted many celebrities and members of the Royal Family around the tower.
"It's going to be hard to move on, but it's not going to be goodbye," he said. The Tower of London's Yeomen are more commonly known as Beefeaters.
'Real privilege'
Mr Keohane worked as a Yeoman warder in 1991 until 2004, when he was promoted to the position of chief Yeoman warder, the most senior member of the Sovereign's Bodyguard based at the Tower of London.
He is the longest serving chief Yeoman warder since 1947 and the second longest serving in history.
"I've met so many famous people and have had the privilege of taking the Royal Family round in my tenure here," he said.
"It's a real privilege to meet these people and to help them understand about our history."
"I think the thing I'm going to miss most is waking up in the morning, opening the curtains and seeing this wonderful iconic venue," he added.
Mr Keohane, who lives at the Tower with his wife Ruth, plans to retire to Devon to spend more time on his hobbies including hill walking and steam railways.