London 2012: Games Lanes will open for public during Olympics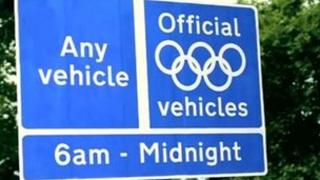 The public will be able to drive in lanes reserved for officials and athletes during certain times of the Olympic Games in London.
Transport for London (TfL) said it was planning to turn off the restrictions on the dedicated lanes during some times of the day to ease congestion.
The 30 miles of Games Lanes are part of the 109-mile Olympic Route Network (ORN) in London linking key venues.
The ORN will be in force from two days before the Games until two days after.
Leon Daniels, TfL's managing director for surface transport, said: "We are committed to delivering a great Games and to keep London moving.
"To help us achieve that we have developed a proposal which would see the Games lanes, which will operate on around one third of the 109 miles Olympic Route Network in London, to be operated flexibly during Games time."
Olympic host cities are required to provide a road network for the "Games Family" to ensure a smooth running of the events.
The lanes were only to be accessible to 80,000 members - including athletes, officials, sponsors, VIPs and media.
The Olympic Games and Paralympic Games Act of 2006 gave the Olympic Delivery Authority (ODA) temporary powers to develop traffic management measures to ensure a reliable traffic flow during the Games.
A Paralympic Route Network will also be in operation on a smaller scale during the Paralympics.