Crossrail searches disused east London tunnel for WWII bombs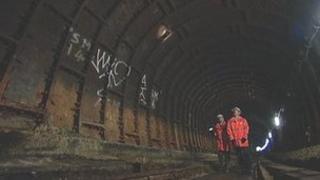 A disused tunnel under the Royal Docks in east London is being searched by Crossrail for unexploded World War II bombs and devices.
The 550-metre Connaught Tunnel, which was built in 1878, is part of the planned Crossrail route.
Experts are checking the tunnel to see if any devices remain in the soil after it was hit by a bomb in 1940.
Armoured vehicles are being used to search the tunnel which was used by trains until 2006
Reconstruction work on the Connaught Tunnel, which was used by the North London Line, will begin in 2013 after the ordnance checks.
'All clear'
The work to bring the tunnel into use is expected to cost £50m.
Crossrail said its initial survey did not reveal the likelihood of any devices being present and the dock floor above the tunnel was given the "all clear" by divers.
Linda Miller, Connaught Tunnel project manager, said: "We know from existing maps where bomb drops occurred in London during the 1940s and many ground surveys have also been undertaken over the decades.
"Ahead of major refurbishment work on the Connaught Tunnel commencing, we will be undertaking further detailed checks to identify whether there are any remaining devices that are yet to be uncovered."
Similar ordnance surveys will be carried out in its other sites in east London which were targeted during the war.
Archaeologists will also study the area to locate any historical artefacts.
Crossrail, which is due to open in 2018, will connect Maidenhead in Berkshire to Shenfield in Essex, passing through central London, with spurs going up to Heathrow and Abbey Wood.