London water mains affected by freezing weather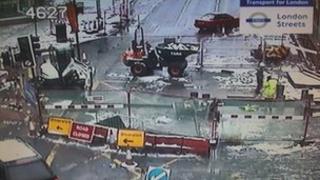 A burst water main in south-west London has caused disruption as Thames Water said it received nearly 2,500 calls over pipes breaking in the cold weather.
A major pipe which burst on Friday evening in Wandsworth High Street, Wandsworth, was fixed on Saturday.
But because of the snow, the Tarmac needed in order to allow the road to re-open could not be found.
Diversions have affected traffic in Putney, Roehampton and Wimbledon.
'Contracting pipes'
Wandsworth High Street is closed westbound.
A spokeswoman said it was a 23cm (9in) pipe which burst and that it was hoped the road would be able to re-open following a "temporary repair" for Monday's rush hour.
She said: "We have been unable to get hold of any Tarmac to complete the road repair. We are really sorry for the disruption this is causing.
"We will have to go back at a later date to complete the permanent repair. This will probably be next weekend."
In total, four broken water mains have closed roads in recent days including Roehampton Lane in south-west London and Camberwell New Road in south-east London.
Thames Water said Saturday had been the busiest day of the year so far in terms of emergency calls.
"When temperatures drop, our pipes - especially the old cast-iron ones - contract and in some cases they break along hairline weaknesses," Thames Water said.
"We are doing everything we can to fix these pipes as soon as we can. "