London Underground recruits 300 Tube station staff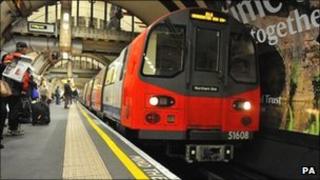 London Underground (LU) is recruiting 300 Tube station staff in a move union bosses claim has been caused by a 2010 policy of cutting 800 jobs.
LU announced plans to cut the jobs in 2010 as part of cost saving measures.
But the RMT's Bob Crow said LU had "been forced into recruiting 300 new staff to try and plug the gaps" and called the policy a "massive blunder".
LU responded by saying: "We are just filling vacancies left by people leaving or being promoted."
It added: "There are no new posts or new jobs."
Transport for London's (TfL) 2010 plans led to a series of 24-hour strikes on the network.
But it said its number of station staff would remain at around 5,200, despite the new vacancies.
'Promotion opportunities'
An internal bulletin from LU on the new jobs reads: "It has been over three years since our last recruitment campaign, and we are now in a position to fill a number of vacancies in our station operations.
"These vacancies are as a result of a number of promotion opportunities that have been offered to existing staff who have moved on to be train operators (as lines run more services), station supervisors or work in other roles across the business."
RMT union leader Bob Crow said: "Having dumped 800 safety-critical station staff as part of Mayor Boris Johnson's cuts programme, TfL are now admitting they have made a massive blunder and have been forced into recruiting 300 new staff to try and plug the gaps.
"This is crisis management on a massive scale which could have been avoided if TfL had listened to the RMT in the first place instead of accusing us of scaremongering."
LU chief operating officer Howard Collins said: "We are looking to recruit up to 300 new customer service assistants over the next six months to replace employees who have retired, left or moved to other jobs within LU.
"This will maintain our station staff numbers to the level we implemented in February 2011.
"That recruitment is all about continuing the Mayor's pledge to ensure we maintain a high visibility presence on all of our stations whenever services are running."