Bayswater Road partially reopened after burst pipe shut it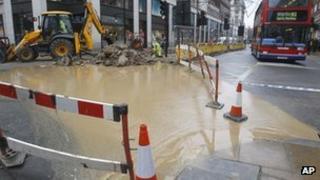 A road in London has been partially reopened after a burst water main forced its closure for several hours.
Bayswater Road was closed between Queensway and Lancaster Gate, after the burst main was reported at 02:20 GMT.
Thames Water said there were eight water pipes running under the road, making it difficult to locate the leak.
The road eastbound was reopened at 12:30 GMT. Westbound reopened at 16:00 GMT, although one lane will remain closed until Thursday.
Westminster Council said this was so repairs could take place.
Water has also been restored to people in the W8 area.
The road closure saw three bus routes - 94, 148 and 390 - to be diverted.
Old pipes
A statement from Thames Water said: "The main has been shut off so we can start repairs.
"As there are eight major water mains running beneath the road, it was difficult to locate the burst and shut the water off."
The company is also looking into reports of low water pressure in the area.
Thames Water said it had seen an increase in burst water pipes, especially old cast-iron pipes, over the past week due to the cold weather.
Councillor Lee Rowley, Westminster Council cabinet member for transport and parking, said the local authority would work with the London mayor's office "to establish the reasons why a second major pipe has burst in as many weeks".
The Bayswater incident comes after several shops suffered damage due to flooding in Oxford Street after a water main broke on 20 January.