London 2012: US firm to print Olympics tickets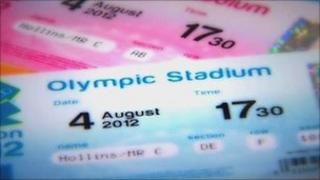 A US firm has been awarded the multi-million-pound contract to print the tickets for the London Olympics, sparking criticism from UK businesses.
Up to 11 million tickets will be produced by Weldon, Williams & Lick, based in Fort Smith in Arkansas.
But the Federation of Small Businesses (FSB) said local companies had been "left out of the loop".
London 2012 said the contract was awarded following a "competitive and open procurement process".
The Olympics and Paralympics tickets will be shipped 4,500 miles (7,300km) from Fort Smith, a city which features in the Coen Brothers' film True Grit.
The tickets will then be posted to UK addresses at a cost of £6 per order.
FSB spokesman Matthew Jaffa said: "We are concerned many local businesses are being left out of the loop.
"A significant amount of small businesses were in a position to win the bid but the complexity of the bid process makes it onerous for them to compete."
A London 2012 spokesperson said: "The contract to print and fulfil the bulk of tickets for London 2012 was awarded following a thorough, competitive and open procurement process.
"The company which won the bid has worked on several previous Games, met all of our criteria around security, budget and scale and has specialist systems in place to personalise, print and package tickets on the scale we require."