Drug dealer Kenrick Wickham 'killed by cocaine thieves'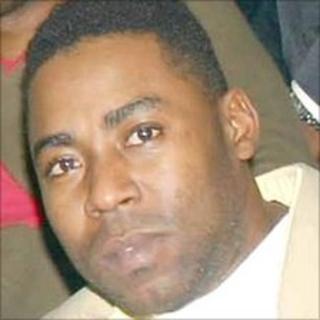 A drug dealer was ambushed and shot dead by a gang who wanted to steal a large quantity of crack cocaine, the Old Bailey has heard.
Kenrick Wickham, 36, was heard begging for his life as three bullets were fired at him.
The prosecution said he was shot twice in the back and once in the head.
Kurt McLean, 26, of Stockwell, Anthony McKenzie, 22, of West Drayton, Devana Palmer, 21, of Muswell Hill, and Samir Yusuf, 23, of Brixton, deny murder.
The court heard Mr Wickham had stepped out of his home in West Dulwich, south London, in June last year to take part in what he believed was a drug deal.
But he was abducted and bundled into a car by an armed gang of four men, said prosecutor Simon Denison QC.
Handcuffs and balaclavas
The men have pleaded guilty to conspiring with a fifth man to rob Mr Wickham.
Mr Denison said: "He was a drug dealer and it was his involvement in that violent trade that led to his murder.
"The four defendants were armed with a loaded handgun and had with them a pair of handcuffs, balaclavas and a mask. They clearly did not intend to pay for any drugs.
"He was ambushed, bundled into a car, where he put up a struggle, and was then bundled out of it and shot three times.
"He was heard to plead with them before he was shot."
Mr Denison said the four men were stopped 10 minutes later by police when they ran off after officers began to follow the car.
The trial was adjourned until Wednesday.