Pensioner killed by stolen car after Hayes police chase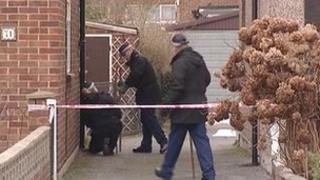 A 70-year-old man was struck dead by a stolen car minutes after officers stopped chasing it, police have said.
The man was hit by a VW Golf on Tuesday after getting out of his parked car in Moray Avenue, Hayes, west London.
Officers had given up a chase involving the car which was reported stolen following a burglary at a house.
The car was reported at 18:53 GMT, and police abandoned the chase five minutes later. The man was hit at 19:02 GMT.
Police believe the driver and a passenger ran off following the crash.
A marked police patrol car spotted the reported vehicle in Dawley Road three minutes later and began a pursuit.
During the chase, the suspect vehicle hit a parked car at the junction of Botwell Lane and Church Road, before driving on.
The police vehicle abandoned the chase at 18:58 GMT after it also hit the stationary Vauxhall Zafira. No-one was injured in the incident.
Det Sgt Chris Osborne said: "We are keen to speak to anyone in the area who either saw the Golf being driven prior to the collision or anyone who saw the people responsible running away afterwards."