Malaysian student Ashraf Rossli recalls London riot punch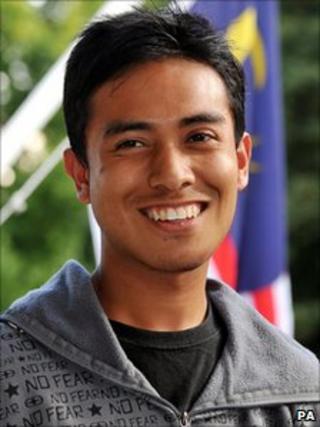 A Malaysian student has told how his jaw was broken in an attack during the riots in London.
Ashraf Rossli, 20, from Kuala Lumpur, was on his way to a friend's house when his bicycle was stolen and he was punched, Wood Green Crown Court heard.
The accountancy student was attacked as he rode along a flyover in Barking, east London, on 8 August.
A 17-year-old denies causing and inflicting grievous bodily harm.
The teenager, who cannot be named as he is under age, also denies robbery but admits stealing the bicycle.
Mr Rossli had been in the UK for about a month when the riots took place last summer.
Mr Rossli told the court that he was punched in the face when he turned around after realising that someone was removing his mobile phone from his left jacket pocket.
His bike was also snatched from him, the jury heard.
The student said: "I turned left to see who took it and felt an impact from the right side.
"The impact was hard. I don't know how it happened.
"I fell to the ground. Blood was coming out of my mouth."
Attack recorded
The punch broke his jaw in two places and doctors had to fit two metal plates to repair the damage.
As Mr Rossli reeled from the punch, the contents of his rucksack were allegedly taken by people in a group who at first appeared to help the bleeding man up, the court heard. The teenage defendant was not involved in this incident.
Prosecutor Christopher Hehir told the court that a witness, Weng Tsang, saw the attack and his girlfriend Diana Frutos Perez recorded the incident on her mobile phone.
One youth punched the victim, the barrister said.
"The same youth then rode off on the bike," he added.
"Weng Tsang clearly heard the youth shout 'Give me the bike' as he delivered the punch, and he also heard this male and his companions laughing."
Mr Hehir added that the accused changed his account to detectives.
"When it was suggested to the defendant he was changing his story he said that he was not answering any more questions."
The case continues.