Met Police arrest more than 500 during gang crackdown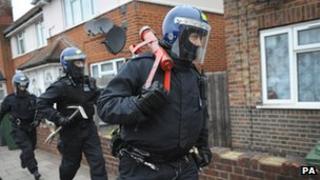 Police arrested 515 people last week during raids across London carried out by a new unit dedicated to tackling gang crime, it has emerged.
Scotland Yard said 254 people have been charged and 443 warrants were issued.
The Trident Gang Crime Command, which has about 1,000 officers, conducted raids on Wednesday which saw drugs, weapons and stolen goods seized.
The unit will deal with shootings and work more closely with boroughs to proactively tackle gang crime.
According to the Met, there are an estimated 250 active criminal gangs in London, comprising about 4,800 people.
Of these gangs, 62 are considered as "high harm" and commit two-thirds of all gang-related crime in the city.
These range from criminal networks involved in class A drugs and firearms supply and street gangs involved in violence and robbery.
The Met said they were responsible for about 22% of serious violence, 17% of robbery, 50% of shootings and 14% of rape in London.