Gagandip Singh's fatal infatuation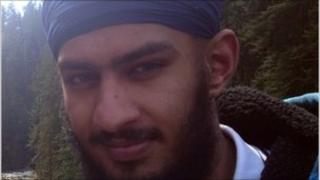 To the outside world, Gagandip Singh had it all.
He was young, wealthy, ran his own satellite TV station and had started up the British Sikh Student Federation.
To a handful of people who knew him well however, the 20-year-old was a tortured soul, obsessed by an "attractive and intelligent" medical student.
Mundill Mahil, also 20, liked Mr Singh as a friend but had no interest in a relationship with the millionaire Sikh activist from Bexleyheath in south-east London.
And one night in 2010, on a visit to Mahil's flat in Brighton, he overstepped a line for which he would ultimately pay with his life.
She had allowed him to stay overnight but Mr Singh misread the signs and tried to force himself on her.
She managed to fight him off and, shocked by his own actions, he broke down and apologised, before fleeing the flat.
'Gangster friend'
For months afterwards, he bombarded Mahil with apologetic calls and text messages but she was upset and angry over the attempted rape.
From then on, she developed an intense hatred for him and confided her feelings to others.
One of those confidants was Harinder Shoker, who was also a close friend of Mr Singh.
Shoker was also infatuated with Mahil, so when she told her "gangster friend" of the attempted rape the pair plotted revenge.
She told the Old Bailey the plan was for Shoker and a friend to give Mr Singh a lecture on his unacceptable behaviour and possibly "a slap or two".
So, after months of silence she lured Mr Singh to Brighton with an offer of talks.
He had resolved to cure his obsession with her but he was "excited" at the chance to see her again and renew their friendship, the court heard.
But he was also worried he could be walking into a trap and had even sent her a text message asking: "OK, can we talk civil or do you just want me dead?"
On 25 February last year, he set off to Brighton borrowing his sister's Mercedes.
The moment he arrived, carrying a teddy bear and flowers, and stepped through the front door and into Ms Mahil's bedroom, Shoker set upon him. He violently beat him.
Ms Mahil told the court she ran out of the room in a panic because she had not expected the violence.
Shoker and Peters wrapped Mr Singh in bedding and bundled it into the boot of the Mercedes.
The pair drove the car back to a road near the wide open spaces of Blackheath in south-east London and poured petrol over the vehicle before setting it on fire.
A post-mortem examination revealed Mr Singh was alive when the fire was started and died from inhaling the fumes.
'Revenge and retribution'
The fire had been so fierce the car was unrecognisable to his family the following day.
Prosecutor Aftab Jafferjee QC told the jury the attack was carried out to "exact revenge and retribution" on Mr Singh, who Mahil knew "remained besotted by her".
"Her role was central," Mr Jafferjee said. "If she hadn't agreed to lure him to Brighton that fateful evening the deceased would have been safe and alive today."
"[Shoker] almost certainly had his own agenda and it was not of the righteous crusader protecting a young woman's virtue," he said.
"He, being besotted with her, was more than happy to get rid of Gagandip."
The court was told Peters was a "hired" help.
Shoker, 20, of Charlton Park Lane in Greenwich, south-east London, has been convicted of murder and jailed for at least 22 years.
Peters, of Shooters Hill Road in Blackheath, also 20, was convicted of manslaughter and imprisoned for 12 years.
Mahil, from Maidstone road in Chatham, Kent, was convicted of causing grievous bodily harm and received a six-year sentence.
All three had denied murder.
It is the second tragedy for the Singh family in as many years.
In 2009, Mr Singh's father Charanjit, who had built up a successful employment agency, was shot dead on a trip to India.
Mahil gave Mr Singh emotional support following the murder and they grew close, before the relationship broke down.