Police dog attacker Lukasz Sklepkowski sentenced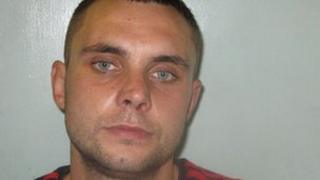 A man who repeatedly slammed a door on a police dog's head has been given a 12-month community order.
Lukasz Sklepkowski, 29, of no fixed address, slammed the house door onto the dog's head during a chase in Edgware, north London, last October.
Zinzan, the German shepherd, has fully recovered after suffering severe blows in the attack.
Hendon magistrates also sentenced Sklepkowski to 150 hours of unpaid work and ordered him to pay £350 costs.
He was found guilty in his absence of causing unnecessary suffering to the dog after he failed to appear at a court hearing in December.
A warrant was issued and Sklepkowski was subsequently arrested, after he handed himself in to police, and brought before the court.
'Chilled out' dog
The court heard that on 13 October several police officers were in the area of Symphony Close on a separate inquiry when someone told them that Sklepkowski was hiding in a bush.
A chase ensued and the dog was released near the entrance to a flat in Viola Court.
The door was slammed on his head and neck repeatedly and a struggle ensued between Sklepkowski and police.
The dog was rushed to the vet for medical treatment and the flat surrounded. Sklepkowski finally gave himself up to police and was arrested.
His handler, PC Dan Revill, said Zinzan had severe bruises to his head and neck and was on the strongest pain killers available while he recovered.
"Zinzan is one of only seven police dogs that are trained to abseil in firearms situations; he is a pretty chilled out dog," he said.