St Pancras station cleaners strike over pay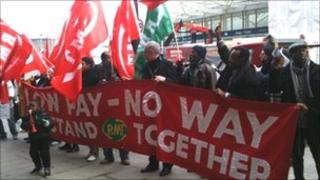 Cleaners at London's St Pancras International station have begun strike action in a campaign for higher wages.
The Rail, Maritime and Transport (RMT) union said its members, employed by Network Rail contractor Initial, began their 48-hour walkout at 06:00 GMT.
The cleaners, who say they have not had a pay rise in four years, were offered a 13p-an-hour increase, the RMT said.
Initial said the RMT had turned down a 2%-a-year pay rise. The firm said it has a contingency plan for the strike.
The station is used by Eurostar, East Midlands, First Capital Connect and Southeastern High Speed services.
The staff who are striking are responsible for cleaning the station, but not the trains, Initial said.
'Spilt Bollinger'
The strike has not had an impact on services from the station, BBC London travel reporter Jules Lang said.
Eurostar said its services have not been affected and their onboard cleaning staff are not on strike.
Initial staff currently receive £6.76 an hour, which the RMT said was "miles short of Boris Johnson's London living wage of £8.30 an hour".
RMT general secretary Bob Crow said: "Its disgraceful that the cleaners who mop up the spilt Bollinger in the St Pancras champagne bar are on poverty pay levels.
"This scandal is a blight on London's status as a world class city in the run up to the Olympics."
A statement from Initial said: "This is clearly a situation that we wished to avoid, but we have a contingency plan in place to try to ensure that services to the general public are not affected.
"Initial Facilities has been operating the Network Rail contract for 18 months and the Eurostar contract for six months.
"We can confirm that the union has taken the decision to turn down a 4% pay increase across two years (2% backdated for 2011 and 2% for 2012) on behalf of its members working on the Network Rail contract."
A Network Rail spokesman said the matter was between the union and Initial.
Another contractor, OCS, increased pay for cleaners to £8 an hour earlier this month after a threat of strike action.
Cleaners employed by Initial plan to hold a second 48-hour strike over the issue on 1 March.