Serial London sex offender Mohammed Kendeh deported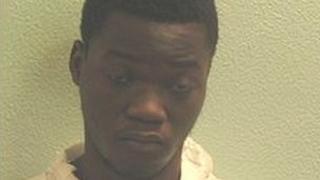 A serial sex offender who attacked 11 women in five years has been deported to his native Sierra Leone, the Home Office has said.
Mohammed Kendeh, 25, of Peckham, south London, admitted indecently assaulting 11 women between 2002 and 2007.
In 2007 a judge said he could not be deported due to human rights laws, but calls for deportation resurfaced after he was jailed for robbery in 2009.
One victim, Gabrielle Browne, said he should have been deported earlier.
The sex attacker was sent to Freetown on Sunday, the Home Office said.
'Appalling crimes'
Kendeh was released from prison in 2009 on licence and went on to rob a woman in Beckenham in July that year.
He was jailed for five and a half years at Croydon Crown Court after admitting the robbery and the judge recommended him for deportation.
But Kendeh, who had come to the UK at the age of six, claimed his right to a family life under Article 8 of the European Convention on Human Rights, which is enshrined in UK law under the Human Rights Act.
A senior immigration judge in 2007 ruled that he could not be deported as he had almost no family left in his native country.
Gabrielle Browne, 46, a mother-of-two, was training for the London Marathon in Burgess Park, south London, when she was attacked by a then teenage Kendeh in 2003.
The IT worker, who has waived her right to anonymity, said: "Kendeh committed serious offences and abused the rights and freedoms of women in south London.
"I'm very pleased he has been deported. This should have happened in 2007 when he was, in my view, wrongly allowed to remain in the UK."
Immigration Minister Damian Green said: "Kendeh committed appalling crimes but made every attempt through the courts to thwart his removal and further prolong the suffering of his victims.
"I am pleased he has now been successfully returned to his home country.
"For too long Article 8 has been used to place the family rights of foreign criminals and immigration offenders above the rights of the British public."