Firefighting course for unemployed in Tottenham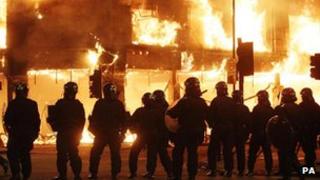 Unemployed people in a part of north London are to attend a firefighting course in a scheme set up in response to last summer's riots.
A group of 18-25 year olds will take part in the Local Intervention Fire Education (Life) course in Tottenham.
It is normally meant for 13-17 years olds but has been expanded following a report by the Riots Communities and Victims Panel.
Life aims to given them skills to get into training, education or a job.
Violence and looting first broke out in Tottenham last August and over the following days the rioting spread to other parts of London and England.
Hardest hit
The Tottenham Life scheme has been set up in direct response to the Riots Communities and Victims Panel report, 5 Days in August, which said that public services and businesses could do more to get young people into the jobs market.
The 18-25 age group has been chosen as they are among those hardest hit by the economic downturn, the London Fire Brigade said.
The London Fire Brigade (LFB) said participants learn real firefighting skills "which are designed to improve motivation, confidence and team building skills". They will also be given careers advice on how to use the skills they have learnt to get help them get a job.
Chairman of London Fire and Emergency Planning Authority Brian Coleman added: "Lives and communities were shattered during the August riots and nowhere more so than in Tottenham.
Risk of rioting
"Firefighters are often out in the areas they serve, working to prevent or put out fires.
"This scheme is the fire brigade's chance to offer something extra to the young people of Tottenham."
A Riots Communities and Victims Panel spokesperson said: "We welcome this initiative, as the largest single group of rioters were young adults aged between 18-24.
"That's why it's essential that action is taken to support young people who could be at risk of rioting in the future."
The course is being jointly funded by the LFB and Haringey Council.