Two men arrested over shooting in Homerton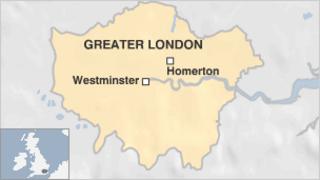 Two men have been arrested over a shooting in east London during which five men suffered gunshot wounds.
The injured men, aged between 25 and 45, went to two hospitals after police were called to Homerton High Street to reports of gunfire on Sunday.
Four men remain in hospital while the fifth man, 21, was discharged on Sunday, the Metropolitan Police said.
The arrested men, aged 20 and 21, are held on suspicion of grievous bodily harm and possession of a firearm.
Both men have been bailed until April.
The Met said all those injured were treated for gunshot wounds. Three of the four remaining in hospital suffered minor injuries.