Saracens plan for Copthall stadium takes step to approval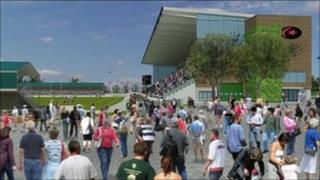 A revamp of Saracens rugby club's stadium has moved a step closer after the mayor's office decided not to oppose a decision to approve the plans.
Last week Barnet Council consented to revised plans for Copthall stadium in north London.
The secretary of state now needs to approve the scheme as it relates to an area of greenbelt.
Saracens chairman Nigel Wray said the club was "obviously delighted" at the mayor's decision.
"Copthall will, we promise, be a genuine community stadium and we will continue to work closely with the local community and make Copthall an asset that we can all be proud of," he added.
The scheme features an all-weather pitch suitable for local schools to use and the stadium will also be used for athletics.
The venue will have a capacity of 10,000 and will have removable stands on three sides.
Saracens, who currently play at Watford FC's Vicarage Road, will use the stadium for a maximum of 16 days of Premiership rugby each season from September until May.