Mayor's riverboat strategy 'lacks enthusiasm'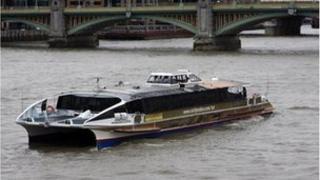 The mayor of London's pledge to improve riverboat services is being thwarted by a "lack of strategic planning", a report has claimed.
The London Assembly's transport committee has accused Transport for London (TfL) of patchy improvements and a lack of enthusiasm.
In 2010, Boris Johnson promised to increase trips on under-used riverboats to 12 million a year.
The mayor's office has said an action plan will be published this year.
There are currently thought to be about three million trips on riverboats on the Thames each year.
'No plan'
A Mayor of London spokesman said: "The mayor has already asked TfL to produce a new strategic plan for passenger services on the River Thames.
"This plan will address all of the recommendations in the transport committee's recent report and will be published before the end of the year."
The Mayor's Concordat, a voluntary agreement between more than 40 organisations to work towards developing river services, was specifically formed to devise a clear strategic plan.
The transport committee claims the Concordat has produced no long term plan, only a brief list of action points, with only one listed for the whole of 2012 - to build new piers in the east and west of London.
The report claims that, as a result, there are gaps in integration with buses and bicycles, a lack of new docks and a failure to judge levels of demand.
Riverboat operator Thames Clippers, which runs boats between Woolwich and Blackfriars, said the Condordat had generated many ideas but few had come to fruition.
In 2006, the transport committee concluded a "wholesale change of attitude" was needed to turn riverboats into a viable form of transport.
'Forgotten highway'
Committee chair Caroline Pidgeon said: "It's frustrating that progress is so slow on expanding a service that has so much potential.
"Our last report described the Thames as London's forgotten highway and unfortunately in many ways it still is."
The Lib Dem London Assembly member described TfL's efforts as "half-hearted", especially in comparison with the £79m spent on cycle hire and £3m on the Thames cable car scheme.
The report claims that of the 33 piers on the Thames only four have been significantly improved in recent years and all in central London.
Westminster Pier, located in the heart of the capital and next to a major Tube station, is still not used for river bus services at all.
The report agreed improvements had been made in marketing, signage, route maps and the introduction of Oyster card usage but fares put commuters off.
Leon Daniels, managing director of Surface Transport at TfL, agreed more needed to be done but said: "Frankly, I think it is harsh to suggest that the river continues to be a huge secret."