More than 400 arrested in licensing crackdown in London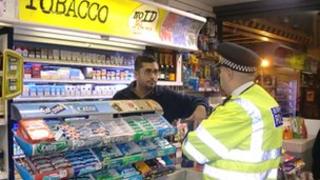 More than 400 people have been arrested as 3,000 Metropolitan Police officers continue a London-wide crackdown on people breaking licensing laws.
Officers visited about 4,900 shops, pubs, clubs in 32 boroughs as part of the 48-hour Operation Condor, which began on Friday afternoon.
The Met said it has uncovered more than 650 licensing breaches.
Minicabs are being stopped and checked and 140 people have been carrying out test purchases from off-licence shops.
Since the operation began officers seized counterfeit goods, including 750 bottles of alcohol in Tower Hamlets, 23 bottles of non-duty paid vodka from Kingston; 200l of spirits, vodka, wine in Ealing; 600 bottles of alcohol and 8,000 cigarettes in Islington.
Twelve pubs and clubs have also been shut down for various licensing offences and seized several unlicensed gambling machines.