Three people jailed over Gagandip Singh revenge death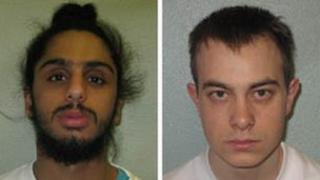 Three people have been jailed over the death of a TV executive who was beaten and left to die in a burning car.
Gagandip Singh, 21, was put in the boot before the vehicle was set ablaze in Blackheath, London, last February.
Harinder Shoker, 20, was given a life sentence for murder and will serve at least 22 years. Darren Peters, 20, was jailed for 12 years for manslaughter.
Mr Singh, 21, was killed in revenge after he allegedly attempted to rape 20-year-old Mundill Mahil.
Mahil, of Maidstone Road, Chatham, Kent, was jailed for six years for causing grievous bodily harm.
Toxic fumes
The Old Bailey heard she confided in Shoker, known as Ravi, about the attempted sex attack, and he recruited Peters to help in the plot against Mr Singh.
Mahil lured Mr Singh to her university house in Brighton, pretending she wanted to talk to him.
He did not know Shoker and Peters were lying in wait in the bedroom, and he was viciously beaten.
Once Mr Singh was unconscious, they wrapped him in a duvet and put him into the boot of the Mercedes he had been driving.
They drove the car to Blackheath where it was set alight with Mr Singh still inside.
Mr Singh was still alive and died of breathing in toxic fumes.
Addressing Mahil, Judge Paul Worsley said she "showed no pity" when Mr Singh called out her name as he was attacked, and added: "You can be manipulative, vengeful and deceitful."
'Incapable of coping'
Addressing Shoker, of Charlton Park Lane, Greenwich, he said: "Besotted by Mundill, you were prepared to do whatever she asked and more."
He said the apprentice electrician had gone "far beyond" the planned attack and "intentionally killed Gagandip Singh in horrific circumstances".
The judge told Peters, of Shooters Hill Road, Blackheath, he had not cared whether Mr Singh was alive when the car was set on fire.
After the attack the judge said he had "callously" withdrawn £300 using Mr Singh's bank card as his payment for going to Brighton that night.
The court was read a victim impact statement from Mr Singh's mother Tajinder.
She said: "As a mother, I can't even begin to find the words to express the great loss I feel.
"When I first learned of Gagandip's death, I was completely and utterly broken."
Mrs Singh said of the three defendants: "Any one of them could have shown some compassion to my son and stepped forward and stopped the assault on him.
Mr Singh's sister said: "He was a constant source of support in my life, emotionally and practically.
"Since his death I have felt utterly adrift and often incapable of coping with the grief of his death."